DIY Just Sit - a meditation timer and sit log app for Android
The first beta of DIY Just Sit has been released and is now available for installation and testing on your Android phone or tablet.

The application is a fork of Brock Tice's Just Sit project with the added functionality of giving you the option to upload your results to your sit log on this website after you have completed a sit.
If you have an Android device please help us out by installing the app and trying it out and then giving us some feedback on how we can improve it in the comments below.
Instructions and screenshots for installation and use follow...
First click on this link to download and install the app to your Android device.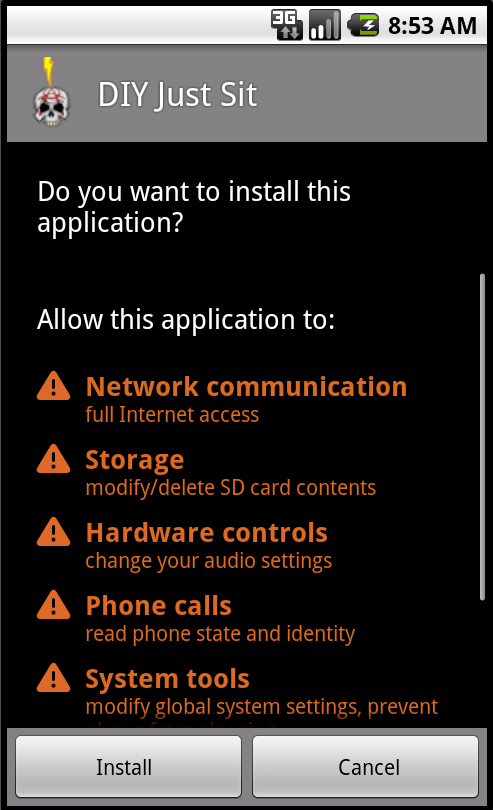 This is the first screen that you will get upon starting the app:
Hit your menu button to enter your diydharma.org username and password, which is needed to be able to upload your results.

When you have the settings the way you want and have entered your username and password, return to the main screen, enter your preparation and sit time and click "Sit!". While you are sitting the app will be counting down.
When you've completed your time the gong will sound. Now you will have the option of uploading a record of your duration to this website by clicking the "Send to diydharma.org" button.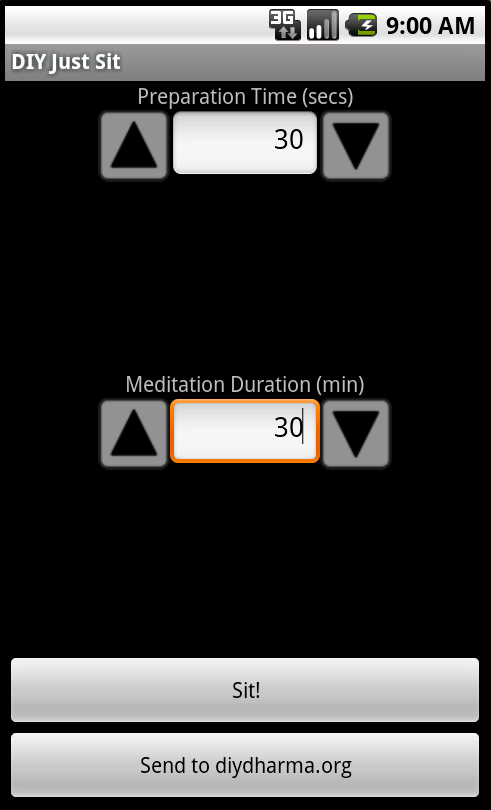 If you entered the wrong information for your account, or your are having network difficulties, you will see the following message:
If your upload was successful you will see the following message: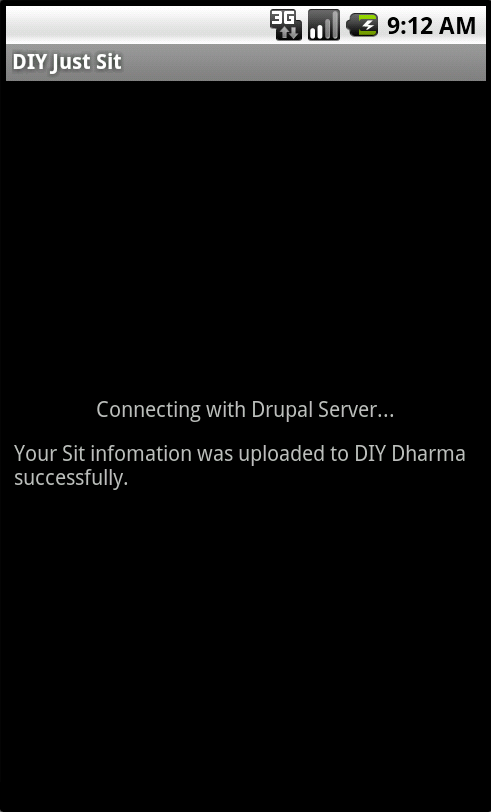 You will now be able to log into the website and see your results by clicking on the "My sits" link in the left column. It's is useful to note that all of the time that you sit in a single day is aggregated into a single sit log entry - meaning if you sit for 30 minutes in the morning and then another 30 minutes in the evening, after you upload the evening duration your sit log entry for that day will show 60 minutes.
Please try it out and let us know of ways that it could be improved. Obvious improvements that we are looking to incorporate in a future release include the ability to include notes, a "prettier" countdown timer (perhaps like the Enso clocks), the ability to choose different bells or gongs, and an option to listen to DIYDharma's Buddhist Podcast Of The Day (BPOD) after your sit.
Once we've amassed some raw data we will work on ways in which it can be usefully presented via this site... and don't forget - the data you submit is only visible to you and not to other regular users of this site (this ain't FaceBook, baby!) Your permission will be sought before any reports are generated that would include any of the data that you have submitted.
Much merit to Brock Tice and Timothy Wisdom for their work in the development of this.